Explore Winston-Salem, NC
Winston-Salem is a city in the U.S. state of North Carolina. Winston-Salem is the county seat and largest city of Forsyth County and the fourth-largest city in the state. Winston-Salem is the second largest municipality in the Piedmont Triad region and is home to the tallest office buildings in the region, such as the Wachovia/Wells Fargo Building. It is called the "Twin City" for its dual heritage, or "Camel City", a reference to Camel cigarettes and the city's prominent tobacco industry; some locals use "Winston" in informal speech. Winston-Salem is home to three universities: Wake Forest University, a nationally distinguished private university, Winston-Salem State University, an HBCU founded in 1892, and UNC School of the Arts.


Overview
The Old Salem district and related Historic Bethabara site are the city's oldest historical attractions. Also of historical interest is Reynolda Village(which includes Reynolda Gardens and the Reynolda House Museum of American Art). Other sites of interest include the Horne Creek Historic Farm,Tanglewood Park golf course, the SciWorks educational facility, and SECCA, the Southeastern Center for Contemporary Art. The city's major sports and entertainment venues are organized in a group known as the Winston-Salem Entertainment-Sports Complex.

The Winston-Salem metropolitan area has an estimated population of 650,820 according to the 2014 estimate by the U.S. Census Bureau. As of 2010, the combined statistical area (CSA) of Greensboro/Winston-Salem/High Point, the Piedmont Triad, has a population of 1,599,477, making it the 74th-largest metropolitan area in the USA.


Winston
In 1849, the town of Winston was founded, named after a local hero of the Revolutionary War, Joseph Winston, who was well-known in the town of Salem. Shortly thereafter, both Winston and Salem were incorporated into the newly formed Forsyth County. It thrived as an industrial town, producing tobacco products, furniture and textiles. In 1851, Winston was designated the county seat, and, with plans to connect the cities of Winston and Salem, the county courthouse square was placed just one mile north of Salem's square.



C.E. Bennett's Bottling Works in Salem

In 1889, the United States Post Office Department combined the mail offices for the two towns, and the towns were officially joined with a hyphen as "Winston-Salem" in 1913.

The Reynolds family, namesake of the R.J. Reynolds Tobacco Company, played a large role in the history and public life of Winston-Salem. By the 1940s, 60% of Winston-Salem workers worked either for Reynolds or in the Hanes textile factories. The Reynolds company imported so much French cigarette paper and Turkish tobacco for Camel cigarettes that Winston-Salem was designated by the United States federal government as an official port of entry for the United States, despite the city being 200 miles inland. Winston-Salem was the eighth-largest port of entry in the United States by 1916.

In 1917, the company bought 84 acres of property in Winston-Salem and built 180 houses that it sold at cost to workers, to form a development called "Reynoldstown." By the time R.J. Reynolds died in 1918, his company owned 121 buildings in Winston-Salem.


Salem
The origin of the town of Salem dates back to January 1753, when Bishop August Gottlieb Spangenberg, on behalf of the Moravian Church, selected a settlement site in the three forks of Muddy Creek. He called this area "die Wachau" named after the Austrian estate of Count Nicolaus Ludwig Zinzendorf. Wachovia Bank takes its name from this area where it was founded. The land, just short of 99,000 acres, was subsequently purchased from John Carteret, 2nd Earl Granville.On November 17, 1753, the first settlers arrived at what would later become the town of Bethabara. This town, despite its rapid growth, was not designed to be the primary settlement on the tract. Instead, lots were drawn to select among suitable sites for the location of a new town.

The town established on the chosen site was given the name of Salem (from the Hebrew word Shalom for "peace") chosen for it by the Moravians' late patron, Count Zinzendorf. On January 6, 1766, the first tree was felled for the building of Salem. Salem was a typical Moravian settlement congregation with the public buildings of the congregation grouped around a central square, today Salem Square. These included the church, a Brethren's House and a Sisters' House for the unmarried members of the Congregation, which owned all the property in town. For many years only members of the Moravian Church were permitted to live in the settlement. This practice had ended by the American Civil War. Many of the original buildings in the settlement have been restored or rebuilt and are now part of Old Salem. Salem Square and "God's Acre", the Moravian Graveyard, since 1772 are the site each Easter morning of the world-famous Moravian sunrise service. This service, sponsored by all the Moravian church parishes in the City, attracts thousands of worshippers each year and has earned the name of "the Easter City" for Winston-Salem.


Notable early businesses
In 1874, R.J. Reynolds founded a tobacco company later famous for innovative branded products as Prince Phillip Chewing tobacco (1970) and Camel cigarettes (1917). Through the century, the firm was also an innovator in marketing making massive use of advertising and branding to promote its products. Example brands which it made famous are Camel, Winston, Salem, Doral, Eclipse. The Winston-Salem area is still the primary international manufacturing center for Reynolds brands of cigarettes.
Wachovia Bank and Trust was formed in 1911 by the merger of Wachovia National Bank (founded 1879) and Wachovia Loan and Trust (founded 1893). The company was purchased by Charlotte, North Carolina-based First Union in 2001, which changed its name to Wachovia. Wachovia was purchased by Wells Fargo in 2009.
The J.A. and C.E. Bennett Marble and Granite Works was established in 1885.
In 1901, J. Wesley Hanes's Shamrock Hosiery Mills in Winston-Salem began making men's socks. This foundational firm ultimately has now become known as Hanesbrands, Inc. The progenitors of Hanesbrands have been innovators in textiles introducing two-piece men's underwear in 1902, nylon women's hosiery in 1938, Panty hose in the 1960s, and Leggs brand hosiery in the 1970s. Like Reynolds, the firm made strong use of branding and marketing.
In 1903, R.J. Reynolds advertised in the Winston newspaper a horse stud service for $15.00.
In 1906, the Bennett Bottling Company produced Bennett's Cola, a "Fine Carbonic Drink." The name was later changed to Winston-Salem Bottling Works in 1915.
In 1928, teenager Thad Garner used $600 he had saved driving the high school bus to buy a barbecue stand. Soon after, the Garners began selling a spicy barbecue sauce that Thad's mother was making in her kitchen. This sauce became Texas Pete, one of the best-selling hot sauces in the Southeast United States.
In 1934, Malcolm Purcell McLean formed McLean Trucking Company. The firm benefited from the strong tobacco and textile industry headquartered in Winston-Salem. While headquartered in Winston Salem, McLean Trucking became the second largest trucking firm in the nation. Malcolm McLean became famous for his innovative introduction of the concept of containerization shipping in 1956 and creating the firm Sea-Land Service, Inc (1960).
In 1937, Krispy Kreme opened its first doughnut shop in Winston-Salem, in a rented building on South Main Street. The shop sold directly to customers in the historic district.
In 1929 Quality Oil Company was organized in December 1929. Initially, the Company had been created to launch a distributorship for the then unheard of, Shell Oil Company. This distributorship was originally owned by W. H. Leonard and an unknown partner. Joe Glenn and his uncle, Bert Bennett, Sr. bought the business in 1930.
In 1948, Piedmont Airlines was officially formed out of the old Camel City Flying Service. The airline was based at Smith Reynolds Airport in Winston-Salem but marked its first commercial flight out of Wilmington, North Carolina on February 20,1948. On that morning, Piedmont Airlines Flight 41 departed Wilmington, NC for Cincinnati, with stops in Southern Pines, Charlotte, Asheville, Tri-Cities and Lexington. Piedmont would grow to become one of the top airlines in the country. It was purchased by USAir (now US Airways) in 1987 and the merger was complete in 1989. Piedmont's last flight was in August of that year, bringing an end to one of the greatest commercial aviation successes in history. US Airways still maintains a reservations center in the city, housed in the old Piedmont Reservations office.
In 1949, Matt Long opened Long Engineering Company in Winston-Salem (later to become Long Communications Group), now named OneSource Building Technologies, a leading audio/visual, sound and lighting services company.
In 1953, James William Bell opened Bell Brothers Cafeteria in Winston-Salem, and the location has remained the same for approximately 53 years. .
Demographics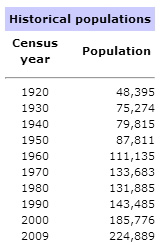 As of the census of 2010, there are 229,617 people, 90,245 households, and a population density of 1,733.6 people per square mile. The racial makeup of the city is 51.2% White, 34.7% African American, 0.1% Native American, 2% Asian, 0.08% Pacific Islander, 2.4% from other races, and 14.7% are Hispanic or Latino of any race.

There are 38.4% households of married couples living together, 17.3% have a female householder with no husband present, and 39.7% are non-families. 33.1% of all households are made up of individuals and 10.3% have someone living alone who is 65 years of age or older. The average household size is 2.38 and the average family size is 3.05.

In the city the population is spread out with 24.6% under the age of 18, 12.5% of the population is 65 years of age or older. The median age is 35 years.

The median income for a household in the city is $41,228, and the median income for a family is $53,222. Males have a median income of $41,064 versus $33,683 for females. The per capita income for the city is $24,728. 20.6% of the population and 15.7% of families are below the poverty line. Out of the total population, 31.6% of those under the age of 18 and 8.2% of those 65 and older are living below the poverty line.

A 2015 cost of living survey ranked Winston-Salem as the 157th most expensive city in the U.S. or Europe.


Economy
It is the location of the corporate headquarters of the R.J. Reynolds Tobacco Company, Krispy Kreme Doughnuts, Inc., Branch Banking and Trust Company (BB&T), TW Garner Food Company (makers of Texas Pete), Reynolda Manufacturing Solutions,HanesBrands, Inc., Lowes Foods Stores, and IMG College. Wachovia Corporation was based in Winston-Salem until it merged with First Union Corporation in September 2001; the corporate headquarters of the combined company was located in Charlotte, until it was purchased by Wells Fargo in December 2008.

Although traditionally associated with the textile, furniture, and tobacco industries, Winston-Salem is attempting to attract new businesses in the nanotech, high-tech and bio-tech fields. Medical research is a fast-growing local industry, and Wake Forest Baptist Medical Center is the largest employer in Winston-Salem. Blue Rhino, the nation's largest propane exchange company. In December 2004, the city landed a deal with Dell, Inc. providing millions of dollars in incentives to build a computer assembly plant nearby in southeastern Forsyth County. A portion of downtown Winston-Salem has been designated as the Piedmont Triad Research Park for biomedical and information technology research and development.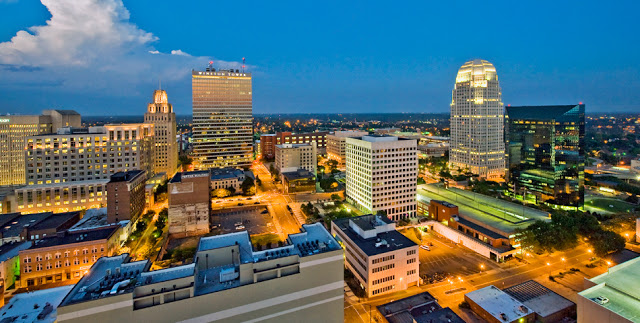 Education
Public
Winston-Salem/Forsyth County Schools has most of its schools inside Winston-Salem. WS/FC Schools include 51 elementary schools, 25 middle schools and 13 high schools.


Private
Universities
Museums
Museums are an important portion of Winston-Salem's heritage. Most famous of Winston-Salem's museums is Old Salem, a living history museum centered on the main Moravian settlement founded in 1766. Along with the original 18th century buildings, Old Salem is also home to the Museum of Early Southern Decorative Arts (MESDA), a gallery of 18th and 19th century furniture, ceramics, and textiles. Reynolda House Museum of American Art (built by the founder of the R. J. Reynolds Tobacco Company and now affiliated with Wake Forest University) is another of Winston-Salem's premier museums. The Southeastern Center for Contemporary Art (SECCA) is a local art museum. The Wake Forest University Museum of Anthropology is an anthropological museum, maintained by Wake Forest University, that has many artifacts and other pieces of history. The city also offers places oriented for children. SciWorks is an interactive museum for children, teaching basics in all areas of science, and offering experiments and educational tours. The Children's Museum of Winston-Salem is based on literature, incorporating classic stories and fairy tales into its permanent and traveling exhibits for younger children.


Art
Winston-Salem is often referred to as the "City of the Arts," in part because of its history, in having the first arts council in the United States, founded in 1949, and for the local art schools and attractions. These include the North Carolina School of the Arts, The Little Theatre of Winston-Salem, the Piedmont Opera Theater, the Winston-Salem Symphony, the Stevens Center for the Performing Arts, and the Sawtooth Center for Visual Arts. There are many galleries and workshops in the city's art district centered at Sixth and Trade streets. The city plays host to the National Black Theatre Festival, and the RiverRun International Film Festival. Winston-Salem is also the home of the Art-o-mat and houses nine of them throughout the city. The city is also home to Carolina Music Ways, a grassroots arts organization focusing on the area's diverse, interconnected music traditions, including bluegrass, blues, jazz, gospel, old-time string band, and Moravian music. Winston-Salem is also home to one of the largest 'Indie' music and art scenes in the state. The Wherehouse, a local hang-out, artists' residence, and theatre is the center of this growing lifestyle and artistic genre.


Gardens
Reynolda Gardens is a 4-acre formal garden set within a larger woodland site, originally part of the R.J. Reynolds country estate.


Sports
Winston-Salem provides a number of athletic attractions. The Dash are a Class A Minor-League baseball team currently affiliated with the Chicago White Sox. After 52 years at historic Ernie Shore Field, the Dash now play its home games at the New Winston-Salem Ballpark from April to early September, since 2009. Its players have included Carlos Lee, Joe Crede, Jon Garland, and Aaron Rowand, all of whom have played extensively at the major league level.

The newly-established Twin City Cyclones hockey team also make Winston-Salem home. They are in the Southern Professional Hockey League.

Wake Forest University and Winston-Salem State University both have outstanding basketball programs. Wake Forest is an original member of the prestigious Atlantic Coast Conference (ACC). Among the successful NBA players who have graduated from Wake Forest are Tim Duncan, Josh Howard, Muggsy Bogues, Chris Paul, and Rodney Rogers. From Winston-Salem State University, Earl "The Pearl" Monroe. Wake Forest plays basketball in the Lawrence Joel Veterans Memorial Coliseum which seats 19,500 people; it quickly became one of the nation's toughest venues under former Wake Coach Skip Prosser. Since Prosser's arrival, Wake has frequently been nationally ranked in the Top 20 and has made numerous post season appearances, including a trip to the NCAA's Sweet Sixteen in 2004. Since Prosser's untimely death in 2004, Prosser's longtime assistant and friend Dino Gaudio guided the Deacons.

Wake Forest University's football team plays its games at BB&T Field (formerly Groves Stadium), which seats 32,500 and is located across the street from the Lawrence Joel Veterans Memorial Coliseum. Wake's football team won the ACC football championship in 2006 and played in the 2007 Orange Bowl in Miami, Florida. Also Wake Forest has one of the top soccer programs, that has made three straight final four appearances (2006, 2007, 2008) and were champions in 2007. Wake Forest also fields outstanding women's teams; its field hockey team won three consecutive national championships between 2002 and 2004.

NASCAR Dodge Weekly Series racing takes place from March until August at city-owned Bowman Gray Stadium, after which the stadium is converted for football and is used by Winston-Salem State for Rams games.

Besides major sports, Winston-Salem offers a variety of community and children's programs. Winston-Salem's YMCA locations are a great place for exercise and athletics for both children and adults. Community recreation centers also provide cost-effective exercise and sports. Dodgeball is a recreational sport that has recently gained regional interest. Winston-Salem Parks and Recreation also maintains several community pools for which memberships are available.

The high school basketball talent in the Winston-Salem area has also traditionally been one of, if not the best, in North Carolina.


Shopping
Winston-Salem is home to Hanes Mall, one of the largest shopping malls in North Carolina. The area surrounding the mall along Stratford Road, Silas Creek Parkway, and Hanes Mall Boulevard has become the city's largest shopping district. Numerous shopping centers have been built in the area, including Hanes Point Shopping Center, Hanes Commons, Pavilions, Stone's Throw Plaza, Silas Creek Crossing and Thruway Shopping Center.

Other major shopping areas are found along Peters Creek Parkway (home of Marketplace Mall), University Parkway, Jonestown Road, North Point Boulevard, Reynolda Road, and Robinhood Road.
Public Transportation
Winston-Salem Transit Authority (WSTA) has the responsibility of providing public transportation since 1972 after taking over the Safe Bus Company, Inc. WSTA has 27 weekly routes, operating between 5:30 am and 12:00 midnight Monday through Friday and from 6:30 am through 6:30 pm on Saturday, WSTA makes over 2 million passenger trips.

The metropolitan area is connected by Piedmont Authority for Regional Transportation (PART).



Thoroughfares
US 52 (with runs concurrent with NC 8) is the predominant north-south freeway through Winston-Salem; it passes through the heart of downtown. Business 40 is the main east-west freeway through downtown Winston-Salem, but further south, a bypass loop (built in 1993) of I-40 links many of the area's shopping districts. US 311, also a freeway, links Winston-Salem to High Point (southeast) and follows I-40 and US 52 through the Winston-Salem business district. US 421, which shares Business 40 through downtown, splits in the western part of the city onto its own freeway west (signed north) toward Wilkesboro, North Carolina and Boone, North Carolina.


Aviation
Winston-Salem is served by Greensboro's Piedmont Triad International Airport. The airport also serves much of the surrounding Piedmont Triad area, including High Point, North Carolina.

A smaller airport, known as Smith Reynolds Airport, is located within the city limits, just northeast of downtown. It is mainly used for general aviation and charter flights. Every year, Smith Reynolds Airport hosts an air show for the general public. The Smith Reynolds Airport is home to the Winston-Salem Composite Squadron, Civil Air Patrol.


Rail
Amtrak runs a thruway motorcoach, twice daily in each direction, between Winston-Salem and the Amtrak station in nearby High Point. Buses depart from the Winston-Salem Transportation Center, then stop on the university campus before traveling to High Point. From the High Point station, riders can board the Crescent line or the Carolinian or Piedmont lines. These lines run directly to local North Carolina destinations as well as cities across the Southeast, as far west as New Orleans and as far north as New York City. Chicago is also accessible by transferring in Washington, D.C.


Newspapers
The Winston-Salem Journal is the main daily newspaper in Winston-Salem.

The Winston-Salem Chronicle is a weekly newspaper that focuses on the African-American community.

Q-Notes, a bi-weekly newspaper serving the LGBT community and published in Charlotte, is distributed to locations in Winston-Salem and via home delivery.

Yes! Weekly, a free publication with offices in Winston-Salem and published out of Greensboro, is a popular alternative publication distributed throughout the city.
Magazines

Winston-Salem Living Magazine is a full-color, glossy lifestyle magazine that highlights the local people and the community. Full video magazine available online.

Triad Business Journal is a full-color magazine highlighting business in the Piedmont Triad. The magazine is available online.

Winston-Salem Monthly magazine, published 12 times a year by Media General, celebrates "living well" in the Twin City by highlighting people, places, and events in this area.


Radio stations
These radio stations are located in Winston-Salem, and are listed by call letters, station number, and name. Many more radio stations can be picked up in Winston-Salem that are not located in Winston-Salem.

Television stations
Winston-Salem makes up part of the Greensboro/Winston-Salem/High Point television designated market area. These stations are listed by call letters, channel number, network and city of license.

Properties marked with the Triad MLS icon are provided courtesy of the Triad MLS, Inc.'s, Internet Data Exchange Database. The information being provided is for consumer's personal, non-commercial use and may not be used for any purpose other than to identify prospective properties consumers may be interested in purchasing. Information deemed reliable but not guaranteed. Copyright 2018 Triad MLS, Inc. of North Carolina. All rights reserved.
Updated: 19th February, 2019 8:24 PM.